Citrus Summer With Pioneer Woman Dinnerware
July 18, 2021
/
/
Last Updated May 5, 2022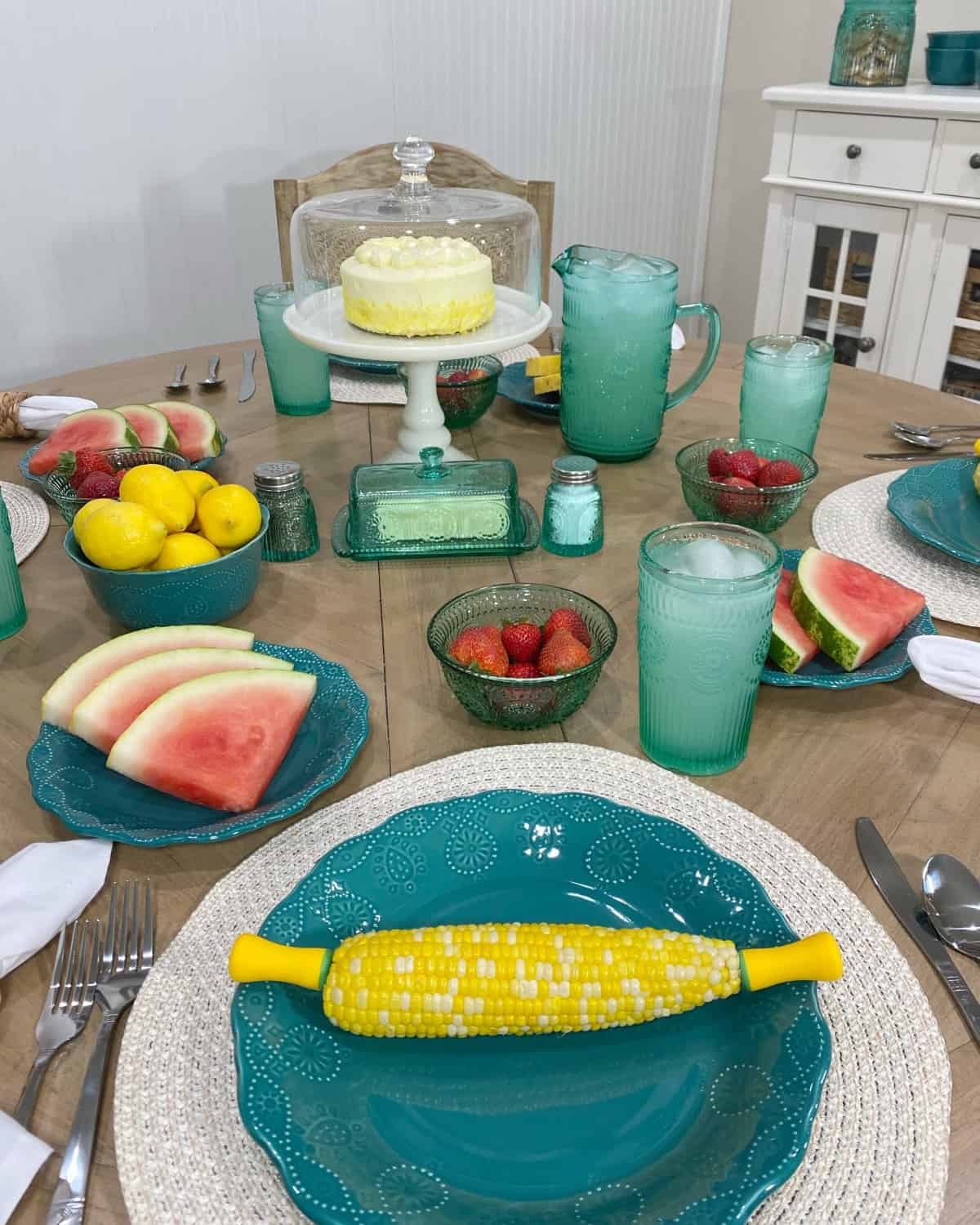 Beautiful Pioneer Woman Dinnerware from Walmart!
Celebrate the season and make it a Citrus Summer with Pioneer Woman Dinnerware from Walmart! As soon as I spotted the Cowgirl Lace and Adeline Dinnerware online at Walmart, I knew I had to have it! Both Pioneer Woman collections are available in different colors, and this combination of turquoise and teal is my favorite!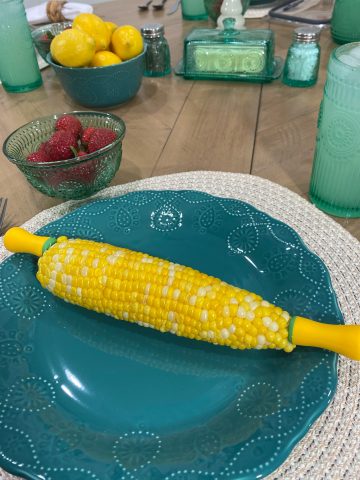 Cowgirl Lace Dinnerware
The pretty Cowgirl Lace 12 piece Dinnerware Set comes in five different colors. You have your choice of white, blue, plum, red, and (my favorite) turquoise. Each set consists of 4 dinner plates, 4 salad plates, and 4 bowls. I love the pretty embossed bead pattern and scalloped edge design. It reminds me of the bottom of frilly skirt that you might wear to a country dance. I imagine it with cowboy boots. Maybe I've watched too many Pioneer Woman episodes? No, never! The set is made of durable stoneware and, of course, is dishwasher and microwave safe. Don't my dinner plates look lovely with that fresh ear of sweet corn? Yum! And I love the contrast of colors of the watermelon slices and the salad plates! The perfect summer pairing!
Round Braided Table Placemats
These pretty round placemats look great with my dishes and are available in a variety of colors so they are sure to look great with your dinnerware too. The placemats really compliment my table setting and are available in 9 colors. I think I will order a couple more sets so I can change colors with the seasons (or my mood!). Very affordable and a nice quality!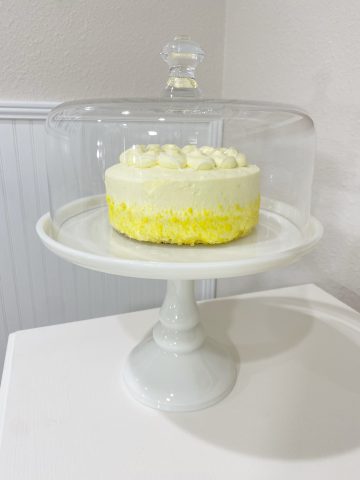 Pioneer Woman Timeless Beauty 10 inch Cake Stand with Glass
This pretty cake stand is perfect for displaying and protecting one of my favorite citrus summer treats – lemon cake! I love using a cake stand as a table centerpiece so everyone can anticipate the sweet treat that is sure to be the highlight of the summer meal. This cake stand has a vintage feel and reminds me of the one my grandmother always used when I was a child. Whether it is a simple meal at home, or a dinner party with guests, this cake stand is a perfect choice for tempting treats.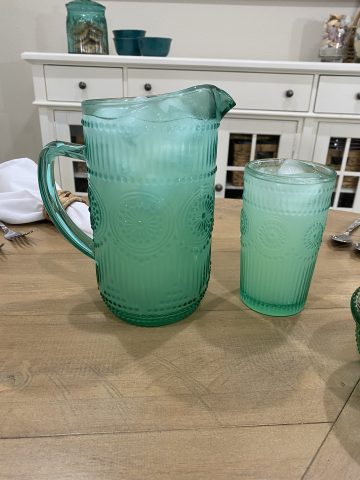 Turquoise Adeline Pitcher and Tumblers
This beautiful turquoise pitcher was the first piece I saw in the Adeline collection. As soon as I spotted it, I hoped there were matching pieces. And, indeed, there are! All of these vintage design pieces are made of embossed pressed glass and are dishwasher safe. In addition to turquoise, the Pioneer Woman Adeline Collection is also available clear and in a pretty plum color. Mine is full of the perfect summer drink – lemonade! I also bought the matching 16 ounce Adeline tumbler set. Like the pitcher, I love the detail on these tumblers.
Adeline Bowl Set
This set of four 13 ounce bowls is perfect for summer treats like fresh strawberries or cold ice cream. They are also great for serving individual salads or sides. They are the perfect size!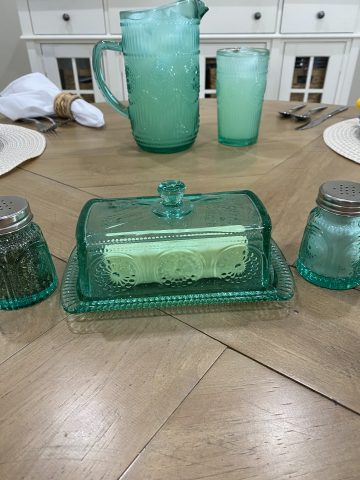 Adeline Butter Dish and Salt and Pepper Shakers
This pretty butter dish makes its own statement. The butter dish and salt and pepper shakers come as a set. If I could only buy one piece of the Adeline collection, I would buy this set. The butter dish is, obviously, beautiful and looks great on my table. But the salt and pepper shakers might just be perfect! You would have to hold them in your hand to understand what I mean. The weight is perfect, and when you hold them, they feel substantial. Also, the holes on the top are generous in both the salt and the pepper shaker. Don't you hate pepper shakers that barely allow any pepper to shake out? This set immediately became my favorite and is now always on my table at meal time.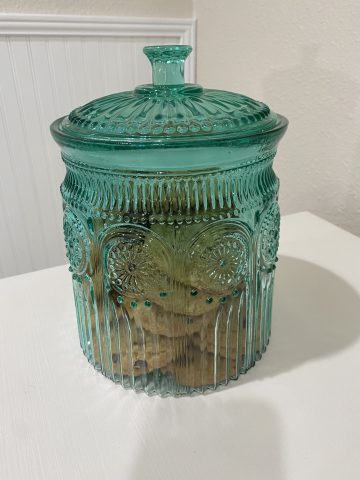 Adeline Cookie Jar
Last, but not least, is the pretty Adeline Cookie Jar that you can spot in the corner on top of my white dining sideboard. The beautiful jar holds a generous amount of cookies (mine is holding chocolate chip cookies from Walmart's bakery!). The lid has a glass handle and a silicone gasket to keep your cookies fresh. Although, if your house is anything like mine, keeping chocolate chip cookies fresh is not the problem. KEEPING them at all is the problem! Somehow, they disappear fast! But, while they last, they will look great in this jar. And the cookie jar looks pretty on your counter, even when it is empty (or just holding a few lonely crumbs).
Free Shipping and Returns!
I love Walmart's Free 2 Day Shipping (when you purchase over $35) because it means I can have my items fast! I ordered this beautiful dinnerware and two days later we were having a citrus summer with lemonade, lemon cake, and fresh summer fruits. It just doesn't get any better than that!
SHOP THE POST