What is Coastal Grandmother Home Decor?
May 5, 2022
/
/
Last Updated July 6, 2022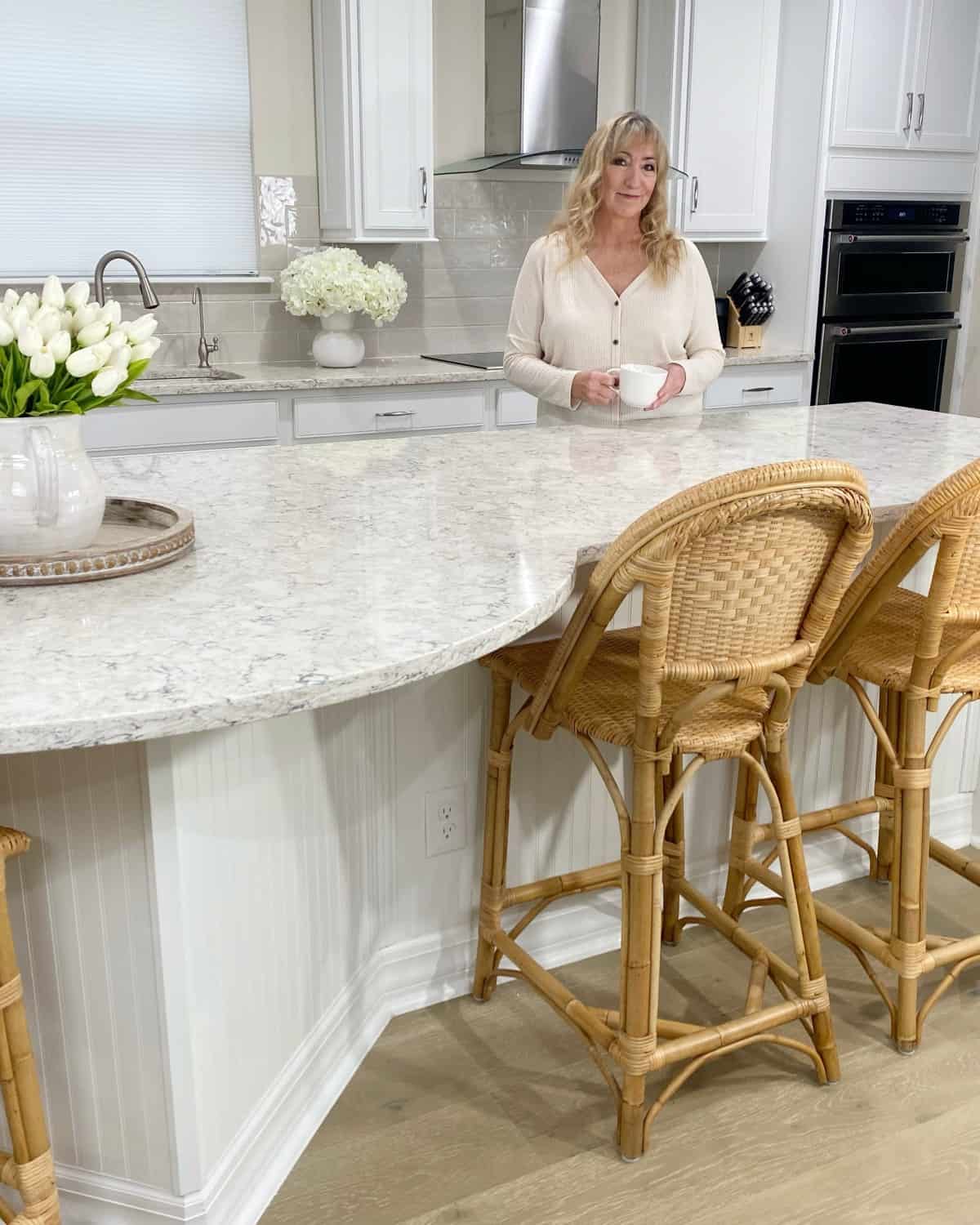 What is Coastal Grandmother Home Decor? That is the question I was asking myself a short time ago while posting on Tik Tok. I was about to post a home decor photo from my home and pulled up my usual coastal decor hashtag and I spotted another hashtag – #coastalgrandmother. Huh? What the heck is Coastal Grandmother? Naturally, Coastal Cheryl had to find out how Coastal Grandmother became a hashtag and why it was getting millions of hits.
In January of 2022, @lexnicoleta coined the phrase and hashtag on Tik Tok. She defined the aesthetic as "Nancy Meyers movies, Coastal Vibes, Recipes and Cooking, Ina Garten, and Cozy Interiors". She went on to say you don't have to even be a grandmother to love (and adopt) this aesthetic. Since then, women of all ages, and locales, are expressing their love for Coastal Grandmother Home Decor, Fashion, and the general lifestyle. Also, it seems, every one of them is sharing their version of Coastal Grandmother on social media. Who knew Grandmother's style could be trending?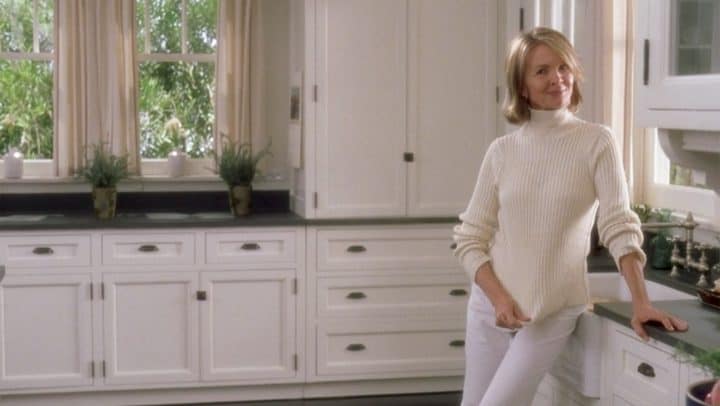 Coastal Grandmother fashion is all about dressing for comfort. It includes lots of whites, creams, and soft tans. Imagine Jane Fonda's wardrobe as Grace in Netflix's Grace and Frankie. Oversized white button-up shirts, creamy sweaters, linen pants, and a floppy hat to ward off the coastal sun. Remember how Diane Keaton dressed in the movie Somethings Gotta Give? Totally Coastal Grandmother.
Coastal Grandmother Home Decor embraces the same vibes. Neutrals, overstuffed couches, jute rugs, and flowing gauzy drapes are all included. Again, imagine the costal homes from Somethings Gotta Give and Grace and Frankie.
When I first read this definition of Coastal Grandmother I had two thoughts. First – Finally! An exact definition of my favorite style of coastal home decor (see my blog post on Five Types of Coastal Decor. Looks like I will have to add a sixth). Second – Wait! What? Does that mean I'm cool now? Well, maybe that's a stretch, but I love that the home decor style I have embraced for so long is finally trending. LOL
No matter where you live, or how old you are, or whether you are a grandmother (or even a mother), it is easy to add a touch of Coastal Grandmother to your home. Coastal Grandmother is an easy and relaxed lifestyle. It stresses enjoying lingering moments and taking time to exhale. Creating places to linger and relax are key.
My bedroom is all about Coastal Grandmother home decor. Of course, I decorated it long before the phrase and hashtag was coined, but that is beside the point. When I was decorating my Florida home, I knew I wanted it to reflect the colors of the beach – soft tans of the sand, white foam of the sea, and the soft blues of the sky. I also knew I wanted my home to be a place where guests immediately feel comfortable. In this bedroom, that means cozy throw pillows and a soft pom pom throw blanket. The bright white coastal bed and nightstand compliment this pretty coastal table lamp.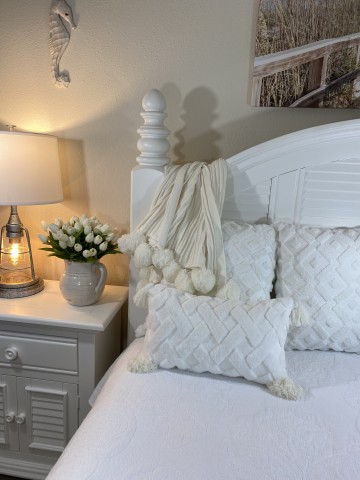 I LOVE this simple vase set. It gives all the Coastal Grandmother Home Decor vibes. The vase set is textured ceramic and comes with a simple rope. If you don't care for the rope, you can easily remove it. The faux tulips look like they were just picked from the garden. The piece of coral is the perfect punctuation.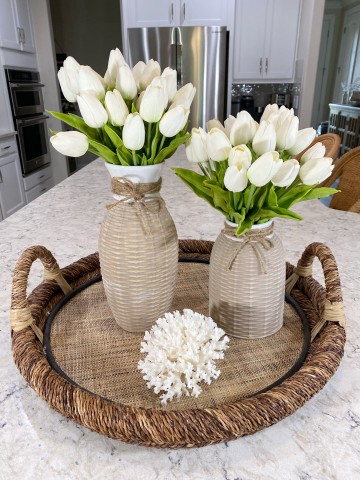 Cant you just imagine this table setting in Grace and Frankie's house? I adore this collection from Casa Fina combined with white linen napkins, and simple water hyacinth placemats and napkin rings.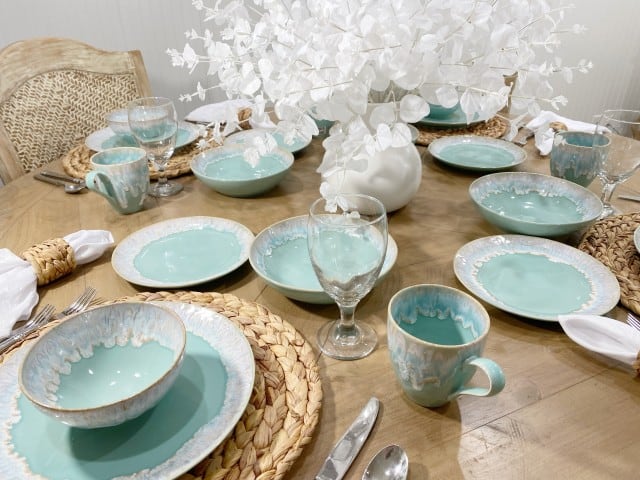 This pretty white coastal accent cabinet in my dining room is one of my favorite areas to decorate. In the corner, a tall dracaena plant offsets the natural tones found in the wall decor, wicker tray, and wicker vases. To top it off, I added a gorgeous faux white orchid.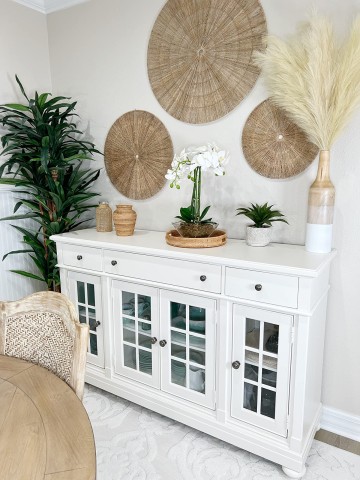 Lastly, my cozy white leather couches in my living room create a great place for guests (or me!) to nap. Comfortable throw pillows and throw blankets are always on hand in varying shades of neutral whites and creams. The simple beach inspired art print adds just a touch of soft blue to complete the Coastal Grandmother Home Decor vibe.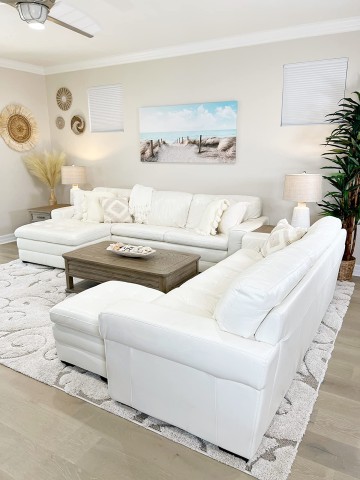 I love the Coastal Grandmother Home Decor style. Simple, cozy, and unpretentious, it is the perfect style for me. And maybe for you too! What is your favorite thing about the Coastal Grandmother style? Let me know in the comments! As for me, its time to make an iced coffee and go for a walk on the beach. After all, I am a Coastal Grandmother.