Five Coastal Home Decor Styles
September 19, 2019
/
/
Last Updated June 11, 2021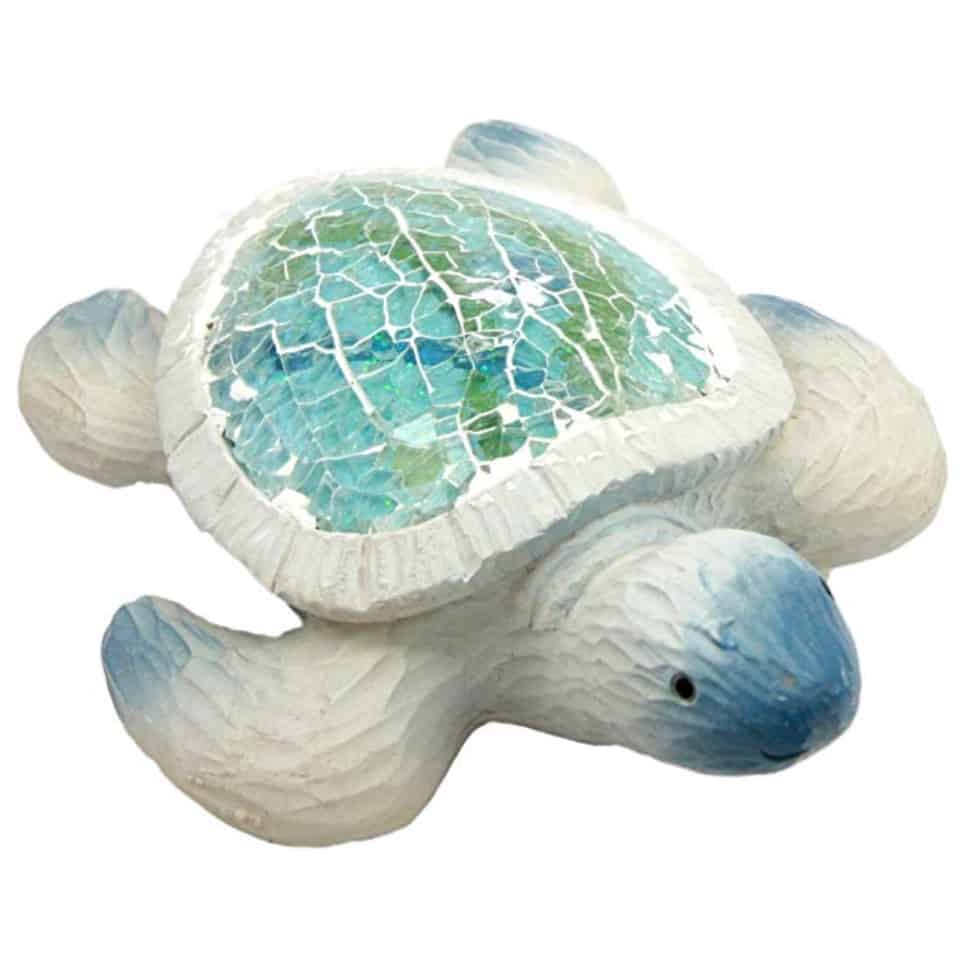 WHAT IS YOUR COASTAL HOME DECOR STYLE?
Coastal is one of the hottest home decor trends. Within that style there are five distinct coastal home decor styles: Farmhouse, Traditional, Cottage, Tropical, and Modern. While there may be some blending of styles, coastal home decor that adheres to one or two styles is the most effective. Lets look at each style.
COASTAL FARMHOUSE
Farmhouse Coastal makes use of lots of light colored wood. White wood and wood tones similar to driftwood are popular. White shiplap is often used on walls. Wood planks often cover ceilings. Dark wrought iron is common in shelving, accent tables, or wall mirrors. Accessories are often made of distressed wood or galvanized tin. Coastal touches such as rope enhance vases or picture frames. Common colors include whites, soft shades of browns, and cream. Home decor accessories with lots of texture add to the cozy nature of coastal farmhouse decor. Click here for Coastal Farmhouse home decor pictured below.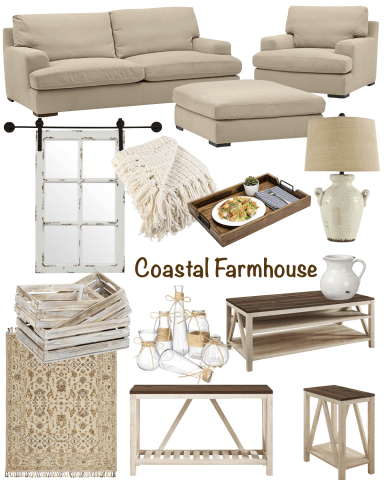 COASTAL TRADITIONAL
Traditional Coastal has probably been around the longest. Blue and white is a popular color combination, as is blue, white and yellow. Color is used sparingly and judiciously. Furniture leans toward traditional and accessories are often nautical in theme. Artwork focuses on ships, oceanscapes, and creatures of the sea. Lines are clean and textures are minimized. Click here for Coastal Traditional home decor pictured below.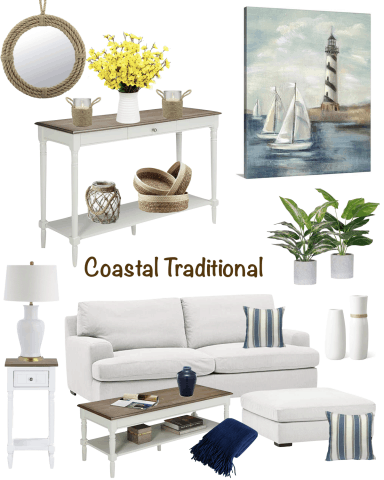 COASTAL COTTAGE
Think beach cottage. Cottage Coastal homes are often filled with whites, creams, and tans. They can also be the most colorful of all coastal homes with coral, turquoise, or blue accents. Seagrass baskets, decorative bottles, and seashells are popular accents. Of all coastal styles, Cottage homes are the most quaint with beach-themed wooden decor accessories like ship wheels, fish, or turtles. Click here for Coastal Cottage home decor pictured below.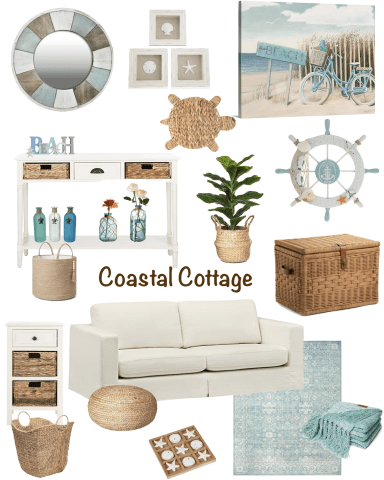 COASTAL TROPICAL
Palm fronds, dark woods, and colorful tropical flowers are the mainstays of tropical coastal decor. Dark green is a common accent color and accessories are often made of bamboo or rattan. Tropical plants such as bamboo or palms are a must. Wicker fans or wall decor accessories are common accents. Click here for Coastal Tropical home decor pictured below.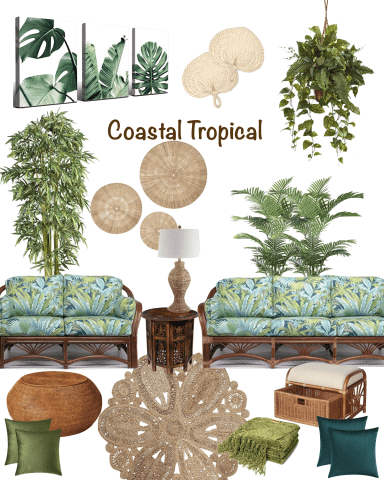 MODERN
Coastal Modern, like most coastal styles, makes use of a lot of white. Cabinet hardware, doorknobs, and lighting are often brushed nickel. Lamps and ceiling fans lean toward sleek and modern. Lines are clean and crisp and texture is kept to a minimum. Artwork or wall decor also has clean lines. Clutter is kept to a minimum. Click here for Coastal Modern home decor pictured below.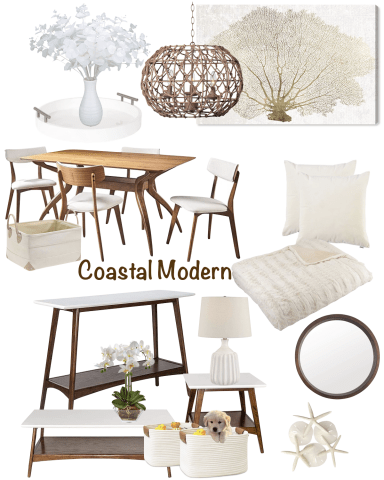 Whatever type of coastal home decor you prefer, most of all, Coastal Home Decor stresses comfort. Whether you create a cool modern home or a quaint cottage, comfort is part of coastal charm. Comfortable living room furniture and sumptuous bedding are must haves, especially if you anticipate guests. And if you live in a coastal home anywhere near an ocean, you can surely anticipate guests!