How to Create a Coffee Bar in Your Home
June 11, 2021
/
/
Last Updated May 5, 2022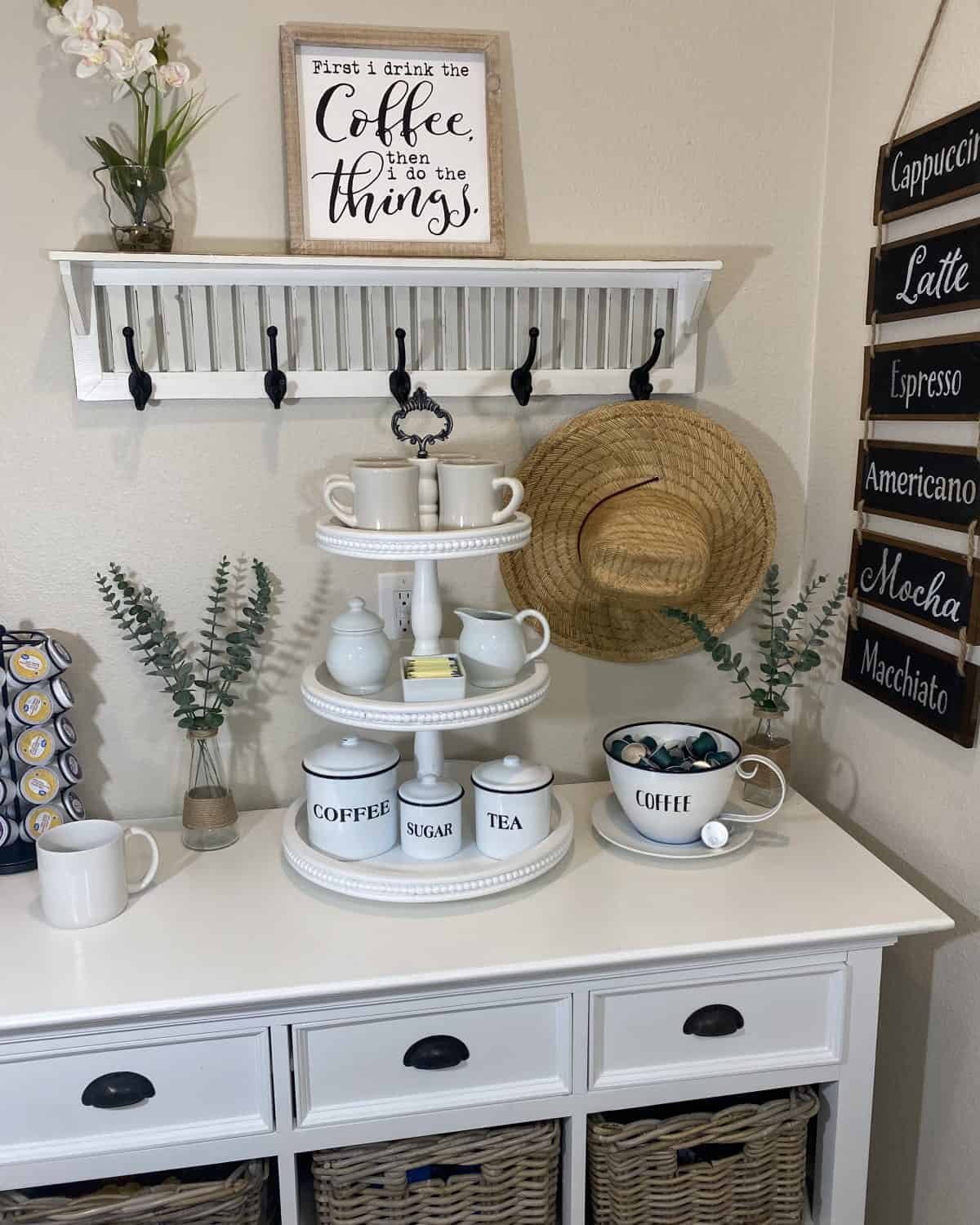 Everything You Need to Know to Create a Great Coffee Bar
What is a Coffee Bar?
A coffee bar, quite simply, is the spot where you display all of the fixings and accessories to make a great cup of coffee. Coffee bar decor can be really simple or quite elaborate, but above all, it has to be cute. If you are not creating a cute space, you might as well leave all of your coffee accessories in the kitchen cabinets. Imagine a little coffee shop right in your own home. Think about how welcoming your favorite coffee shop is. Your coffee bar should also evoke that feeling. Shop all of the coffee bar decorations in this post here.
Best Coffee Bar Locations
Kitchen Counter A coffee bar can be as simple as a spot on your kitchen counter close to your coffeemaker.
Accent Cabinet Any accent cabinet can be used as a coffee bar. Ideally, an electrical outlet is located behind the accent cabinet for plugging in your coffeemaker (or coffeemakers!). I use the accent cabinet across from my pantry for my coffee bar. It does have electrical outlets behind it, but I keep my coffeemakers on my kitchen counter, close to the refrigerator.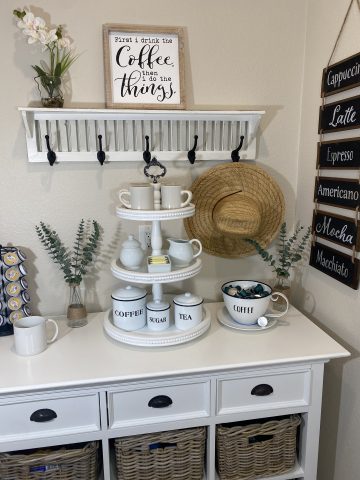 Butler Pantry A butler pantry is a great place to put a coffee bar, especially if you have a refrigerator in your butler's pantry. This is ideal if you use refrigerated milk or creamers.
Coffee Bar Components
Coffeemaker Again, this is optional. If your coffee bar is not in a convenient location (next to water and the refrigerator), feel free to keep the coffeemakers elsewhere.
Cups Obviously, you will need coffee cups for your coffee bar. I suggest including a variety of sizes if guests will also be using your coffee bar. Cups are really cute when displayed in a coffee mug tree.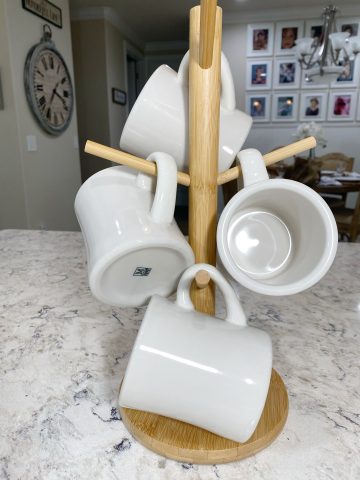 Coffee Storage Whether it is coffee beans, pods, or k-cups, you need containers to hold your coffee products. Canisters, baskets, or bins are popular for containing coffee. Carousels are also great for displaying k-cups or pods because they take up little space and hold a lot of product.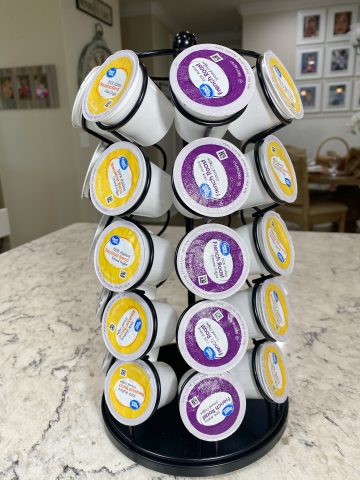 Containers for Sugar, Cream, and Sweeteners Ideally, these three accessories will match each other. Ceramic, porcelain, or tin are common.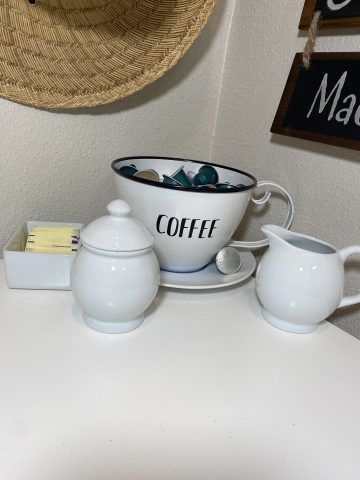 Coffee Related Wall Decor Wall decor might seem like something you add as an afterthought, but it can set the tone for your coffee bar. I added a sign that displays the different types of coffee you might order in a coffee shop and it became an important focal point for my coffee bar.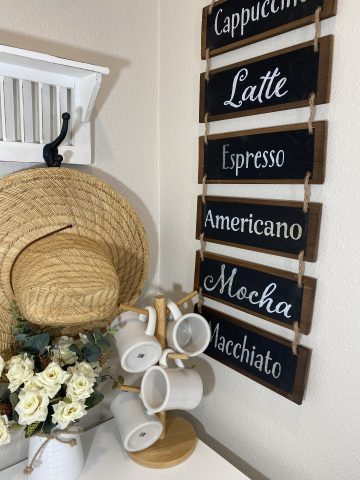 Coffee Bar Decor Tips
Style Deciding on what type of home decor style your coffee bar will reflect is your first step. Do you want your coffee bar to look like a french bistro, farmhouse kitchen, or a modern coffeeshop? Once you decide on style, then all of your choices will flow from that. I wanted my coffee bar to have a coastal farmhouse feel and I think I achieved that with my choices.
Color Theme Stick to one or two colors to create a cohesive feel.
Centerpiece The center of your coffee bar is your focal point. Use a tray (single or tiered) or a decorative basket.
Wall Decor Your wall decor should reflect your decor style. For example, a retro galvanized tin sign would fit in with farmhouse style but now modern.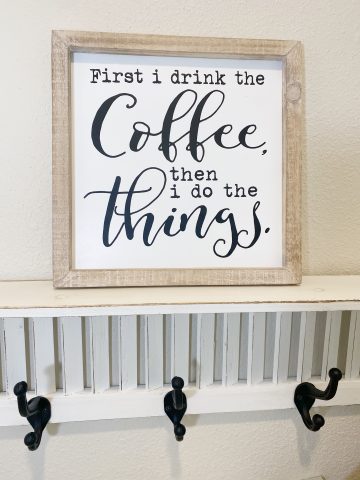 Don't Be in a Hurry
It is tempting to gather all your coffee bar decor at once. Instead, buy some foundation pieces and take your time to add pieces that you truly love. When you see the final result, you will love it!
SHOP all the coffee bar decorations in this post here.
Related posts: