How to Create the Perfect Guestroom
January 1, 2020
/
/
Last Updated March 7, 2020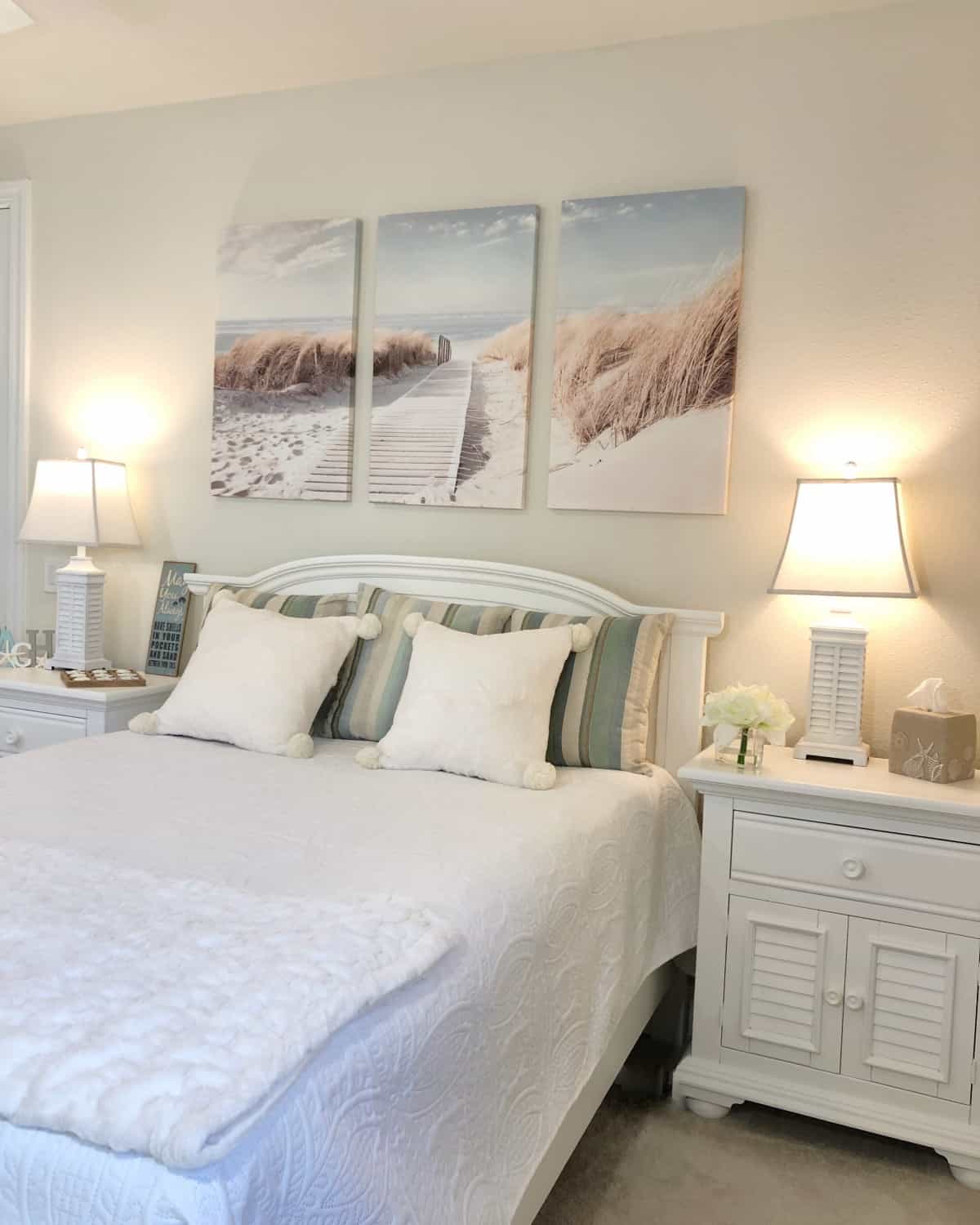 Easy Tips to Create the Perfect Guestroom for Your Guests
If you want to know how to create the perfect guestroom, then you have to think like a guest. What will your guest need during their visit? What can you do to make them comfortable? Follow these simple tips and your guests will feel at home. Products mentioned are pictured below post.
Decorate Your Guestroom in a Fun Way
It might be home to you, but your guestroom is a mini vacation spot for your guests. Make them feel that way as soon as they walk into the room with wall decor and a few accessories. If you live near the beach, make the room feel like a coastal cottage with pictures of the beach and a glass jar of seashells. If you live near the mountains, create the feel of a mountain lodge with wall art of grand mountains and cozy blankets at the foot of the bed. If you don't live near either, create a personal retreat with soothing wall art and little gifts such as a basket of bubble bath, sponges, and candles.
Wash the Sheets the Day Before Arrival
One of the things most of my guests will tell you is they love the scent of my sheets. I've used the same laundry soap and fabric softener (Tide and Downey April Fresh) for years and whenever my kids or grandkids come for a visit, the scent is a subtle welcome. If your guests have sensitive skin, skip the fabric softener and use a fragrance free laundry soap.
Thoroughly Dust and Vacuum the Room
This is a no brainer, but particularly important for guests who are sensitive to dust. Don't forget to vacuuum under the bed and dust the top of tall furniture like armoires. For good measure, also dust the top lip of the baseboard what runs around the room. It is amazing how much dust can collect on a baseboard. If you have a ceiling fan in your guestroom, be sure to dust the top of the blades.
Create Space for Your Guests to Unpack
My husband doesn't mind living out of a suitcase. I hate it. The first thing I do when I arrive anywhere is start unpacking and putting my clothes away. If you have enough space, put a tall dresser or armoire in your guestroom and leave it empty for your guests. If space is an issue, use the dresser to store items you don't need very often such as seasonal clothing. Before your guests arrive, remove your items and free the space for the use of your guests. Stack your stuff in your closet until your guests leave. It is a little inconvenient, but your guest will appreciate it. Likewise, make sure you have some free space and extra hangers in the guestroom closet. Ideally, the closet would be totally empty, but if that isn't possible, push your clothes to one side of the closet and leave plenty of empty hangers hanging in the free space for your guests to hang their clothes. This is one of the simplest and most inexpensive things you can do for your guests and it will certainly be appreciated. You can buy a pack of 20 plastic hangers for about thirteen dollars at Walmart.
Use Bedside Tables With Storage
Ideally, your bedside tables will be empty and have drawers or shelves for your guests to store personal items. The tables should also hold the following items:
noisemaker
alarm clock
tissues
lamps
books or magazines
nearby extension cords
nearby cord for charging cell phones
If you don't have the space for a bedside table on each side of the bed, be sure to include at least one in your guestroom so your guests have a spot to place eyeglasses, cellphones, wallets, purses, etc.
Equip Your Guestroom with Nice Bedding
It's tempting to make the guest bed a depository for all of your cast off blankets and the comforter that you thought you'd like but then you didn't. The result often looks like a hodge podge and is anything but welcoming. If you really want to create the perfect guestroom, you have to make bedding a priority. Bedding doesn't need to be very expensive to be matching and comfortable. Look for sales and read the reviews of sheets and comforters. Very often you can find bedding at very reasonable prices. The sheets depicted below this post get rave reviews on Amazon and sell for around thirty dollars. The bedspread in my guest room (pictured above and also below this post) also gets great reviews costs less than forty dollars. In addition, if possible, have multiple pillows on the bed so your guests can choose one to their liking. I always have six pillows of varying firmness on the bed. I tell my guests to make their choice the first night, and then I take away the extra pillows the next day. That might be a bit extreme, but nobody wants to sleep on an uncomfortable pillow. Also, be sure to have an extra blanket in the guestroom for guest who are cold sleepers.
Leave a Treat on the Pillow
I always turn down the blankets before the arrival of my guests and leave a little treat on the pillows. The last time my youngest daughter visited, I left a little three pack of Ferrero Rocher chocolate. It only cost around a dollar (I spotted it while waiting in Walmart's checkout) and it is such a nice touch. Ideally, leave your guests favorite packaged snack. It could be chocolate, beef jerky, or peanuts – whatever would put a smile on their face. If you are really feeling hospitable, leave a small note or card with a heartfelt handwritten welcome.
Supply Your Guests with Area Specific Items
If you live in an area where your guests might need certain accessories, have them ready and waiting in a basket. For example, we live in Florida and invariably, we have guests who arrive without sunglasses. I've learned to keep a basket with extra sunglasses, beach towels and sunscreen in the guestroom. I also keep extra flip flops on hand for the grandkids that I buy at Walmart for a dollar. They are not for long walks, but perfect for going to the beach. If you live in the mountains you might want to supply a basket filled with hats and gloves.
Have a Things to Do List or Tourist Pamphlets
Compile a list of possible things to do for your guest and leave it on the bedside table. Keep it on your laptop and just print out a new one for every guest visit. Update it occasionally to keep it fresh. Include favorite restaurants and activities in the area. If you live in a tourist destination, include fun tourist pamphlets for your guests to read. Your guests may want to do nothing but relax, but having the information readily available makes it easy for them to decide.
Don't Forget to Give Kids Things to Do Too
If children are visiting you, don't forget to create a perfect guestroom for them too! Leave inexpensive stuffed animals, toys, and games on their bed so it is the first thing they see when they walk into their room. When my grandchildren come to visit, they know they will find toys on the bed. This not only gives them something to look forward to, it also gives them something to do while visiting. They also have certain stuffed animals and toys that stay at my house so they are always welcomed by an old friend at every visit.
Provide a Hamper for Dirty Clothes
I love the inexpensive pop up clothes hampers and I'd advise you to purchase one. When your guests leave the hampers fold down and take up hardly no space at all. While your guests are visiting, they can not only store dirty clothes in the hamper, but easily carry the clothes to the laundry room in the pop up hamper. When the clothes are washed, they can toss them back into the hamper to be returned to their room. I always have laundry soap and fabric softener available for my guests to use so they don't have to go home with a suitcase full of dirty clothes. I also keep a fragrance free laundry soap available for guests who have sensitive skin. If you don't have a laundry hamper, in a pinch a regular laundry basket will work for dirty clothes in the guest room. Just put it in the bottom of their closet.
Darken the Guestroom for Sleeping
You cannot create the perfect guestroom without the right window treatments. No one wants early morning light pouring in after a long day of flying and a late night arrival. I installed room darkening shades and blackout curtains on the windows of my guestrooms to make it easier for my guests to sleep late. This is especially important for guests who are traveling from another time zone. These window treatments are relatively inexpensive and work great.
Welcome Your Guests Into the Guestroom
When your guests arrive, help them carry their bags into the room. Tell them where everything is and if you have empty space for their use in the dresser and closet, let them know about that too. Tell them they can store their empty suitcases in the bottom of the closet, or offer to store them in your garage or another room if you don't have space in your guest closet. That way, they wont be walking around suitcases on the floor during their visit. Of course, if they don't want to unpack, and would prefer to pull waded up clothes out of a suitcase all week like my husband does, tell them they are also free to do that too. Whatever works for them. Most of all, make them feel at home.