My Five Favorite Coastal Comforters
July 10, 2019
/
/
Last Updated July 10, 2019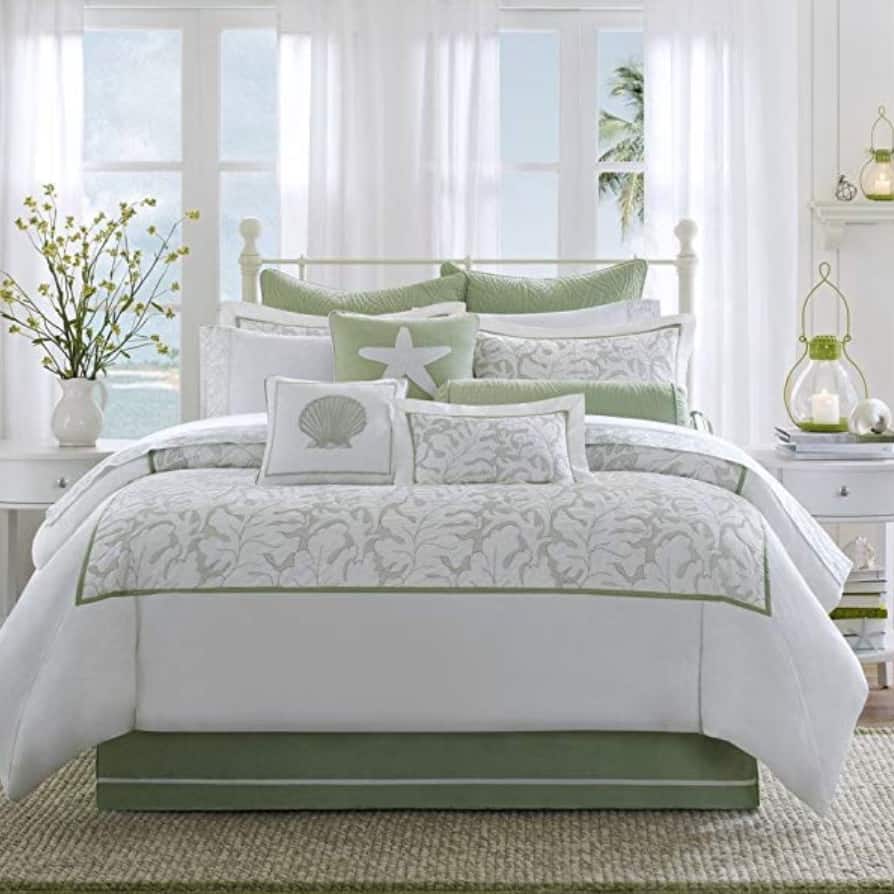 I'm so excited that my five favorite coastal comforters are now available on Amazon! When it comes to decorating your bedroom, nothing makes more of an impact than the comforter on your bed. This is especially true when designing a coastal bedroom. The right coastal comforter sets the tone for the bedroom and allows you to easily bring a coastal vibe to the room without going over the top. Here are my five favorite coastal comforters!
Tommy Bahama La Scala Breezer Seaglass Comforter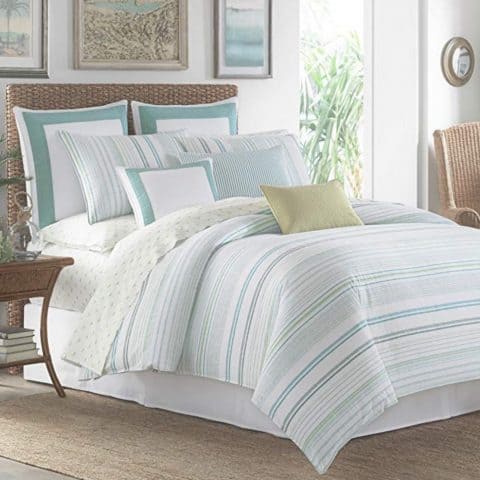 This beautiful coastal comforter from Tommy Bahama is so subtle. I bought it for one of my guest bedrooms and I love the impact it makes on the room. The comforter is predominantly white with subtle blue and turquoise stripes. You can add white throw pillows to it to downplay the color or add bold blues and turquoises to emphasize it. In the photo of one of my guest rooms below I chose to go bold and add a pop of color with that gorgeous pillow. The white furniture and White Coastal Shutter lamp do the opposite and tones things down. If you want to go coastal but also use lots of white, this coastal comforter is the perfect solution.
Harbor House Coastline Comforter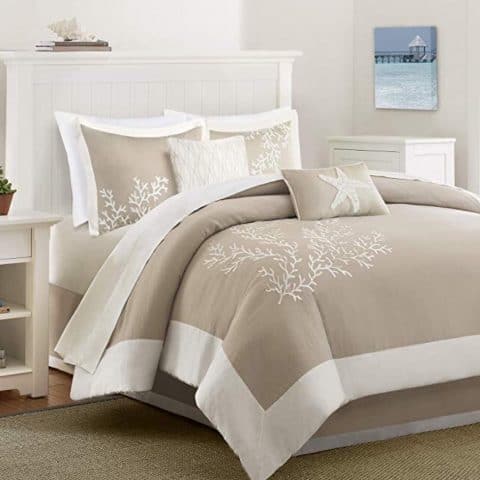 When we moved from Indiana to Florida I knew I wanted to go coastal in my home decor but I also didn't want to go overboard and create a home that looked like a Florida Spring Break bar. One of the first items I bought was this Harbor House Coastline Comforter. It looked beautiful in the photograph, but I was hesitant when I read the color description of "khaki". Trust me, the color is great – kind of a tan or beige. Not khaki. Picking which color I wanted was the most difficult part of my decision. I finally settled on this one. The blue one (also so pretty!) is pictured below.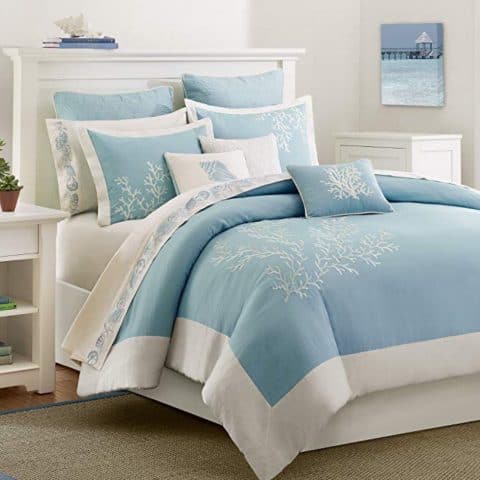 Harbor House Brisbane Comforter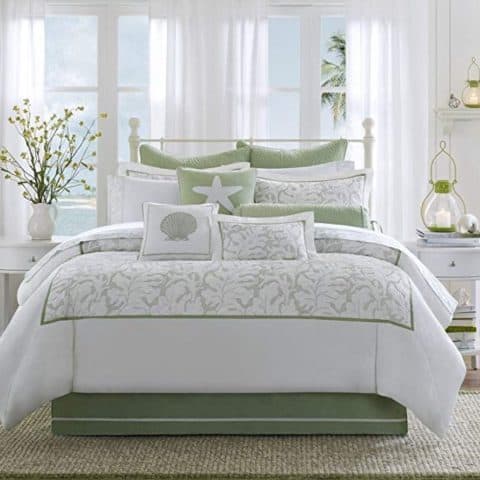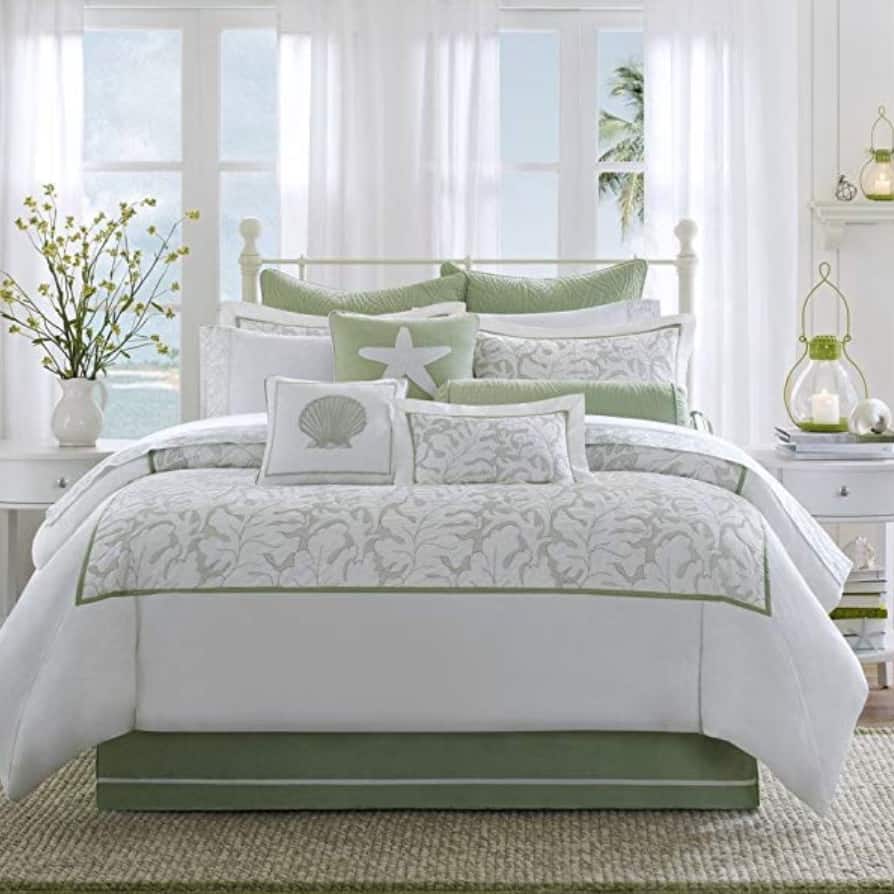 If blues and tans are not your thing, but you still want to go coastal, you are going to love this stunning Harbor House Brisbane Comforter. If I had another guest room, this comforter would certainly be my choice. As a general rule, I'm not a huge green fan, but I love this color of green. It feels so soothing and clean. It would look beautiful with white or brown furniture. I also LOVE all of the throw pillows that you can buy to accessorize this comforter. I've added pillows to accessorize all of the comforters mentioned here to the bottom of this post, so be sure to check them out.
Brandream Vintage White Paisley Comforter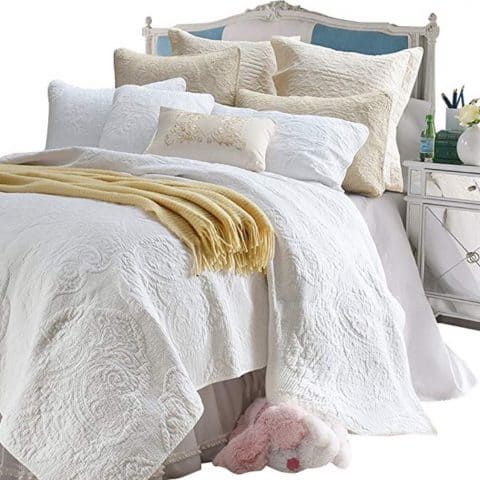 For my master bedroom I wanted a bright white comforter with texture and this Branddream Vintage Paisley Comforter is perfect. It is a beautiful bright white and I love the texture it adds to my bedroom. I added some Madison Park Throw Pillows that you can see in the picture of my master bedroom below. They are a really nice match. I still want to add some more interesting pillows with texture but I haven't found any new ones that I love yet. I will update you when I do!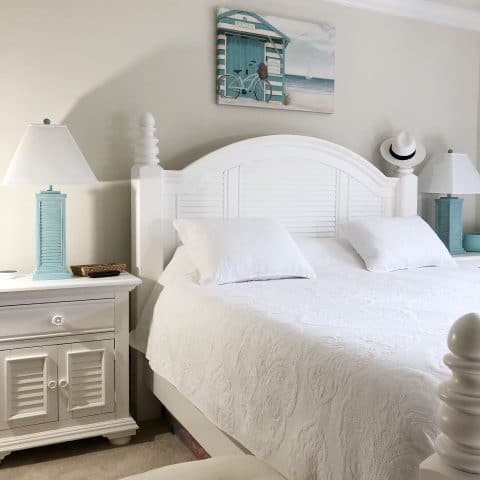 Harbor House Crystal Beach Comforter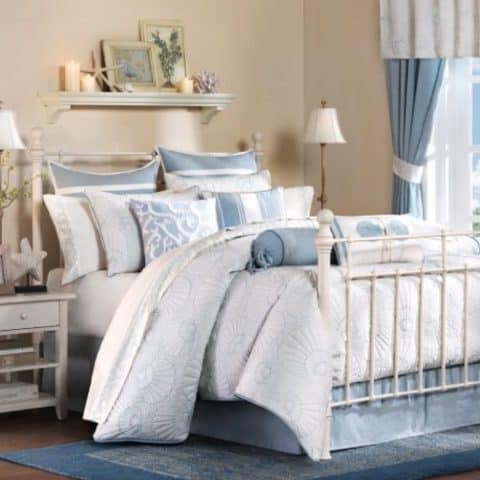 And yet another comforter from Harbor House! I don't own this comforter, but I am certain it has the same high quality of all the other Harbor House bedding. This is the Harbor House Crystal Beach Comforter and it just screams coastal! There is also something so luxurious about this comforter. Like all of their products, Harbor House has matching throw pillows to complete the look!
A Final Suggestion
I bought a lot of comforters over the years and my one complaint is always the same – wrinkles. As soon as you take the comforter out of its package and spread it across your bed all you can see is wrinkles and if you are like me, you have immediate buyer's remorse. (To read a blog post I wrote about this click here). Obviously, you can iron your new comforter, but the thought of wrestling around a comforter on an ironing board just doesn't appeal to me. The simple solution is a steamer. Just spread your new comforter out on the bed and steam those wrinkles away. My favorite steamer for steaming not only clothes but home products (comforters, blankets, drapes, throw pillows) is the Conair Extreme Steam Hand Held Fabric Steamer. If you don't have one, you're going to want to buy one. Trust me on this.
If you are decorating a coastal bedroom, I hope I've given you a little inspiration. Don't forget to check out the matching throw pillows below. Happy shopping! Have fun!! (I LOVE decorating bedrooms!)
You can also see more Coastal Comforters in our STORE